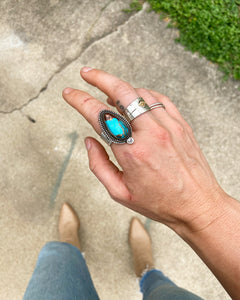 Kingman Turquoise Ring
Kingman turquoise with copper and spiny oyster inlay, set in sterling silver.
Size 8.
The Kingman Turquoise Mine is one of the oldest and highest producing Turquoise Mines in America. It was originally discovered by prehistoric Indians well over 1000 years ago. Kingman Turquoise is known for its beautiful sky blue color and produces many variations of blue Turquoise. Kingman Turquoise has been the biggest supplier of Turquoise to the industry.  It was once part of a turquoise boom around 1000 AD when the Mayan culture was using a lot of Turquoise for self adornments and ceremonial items.
---
We Also Recommend